hotels and apartments
sport and leisure
localities
information

Your search
3-star-hotels Valle di Primiero
In this pear of the Dolomites, the Hotel Centrale aims to give its guest peace and a relaxing time. The family-run hotel takes care of every detail and the special attention, which is always reserved to the guests, is an additional guarantee for your holiday.
deals
08/01 - 29/01/2022

385€ per week

26/02 - 05/03/2022

490€ per week

09/01 - 26/03/2022

450€ per week
Characteristics
Family Scalet welcomes you in Hotel Eden! The family Scalet has been running the hotel for 15 years with passion and dedication. The hotel is located in Transacqua, a village in the heart of the Dolomites, UNESCO Nature-Worldheritage.
deals
02/12 - 19/12/2021

from 140€ for 2 nights

23/12 - 27/12/2021

from 75€ per night

26/12 - 02/01/2022

from 90€ per night
Characteristics
Hotel Panorama is a typical mountain style guesthouse run with genuine passion and attention to detail, where guests can enjoy a restful vacation. Courtesy and helpfulness are the trademarks.
deals
04/12 - 08/12/2021

220€ for 4 nights

22/12 - 26/12/2021

295€ for 4 nights

09/01 - 30/01/2022

387€ per week
Characteristics
The hotel Al Bivio is located in the wonderful Dolomites area, in the village of Imèr. Suitable for families and couples who want to spend their holiday in tranquility. The Hotel has 8 rooms and 4 apartments, equipped with every comfort.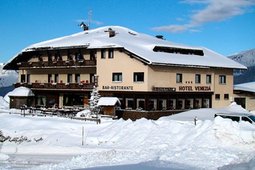 Passo Rolle (San Martino di Castrozza)
Nestled at the foot of the Pale di San Martino mountain range, a stay at Hotel Venezia means a backdrop like no other, capped by the majestic Cimon della Pala, the most spectacular peak of this group. In both summer and winter the unique scenery will never fail to impress!
deals
22/12 - 27/12/2021

from 350€ for 5 nights

02/01 - 09/01/2022

from 515€ per week

09/01 - 26/03/2022

from 420€ per week
Characteristics
The family-run Hotel Europa is situated in the wonderful setting of the Dolomites, in a quiet and easily accessible location. Located in the village of San Martino di Castrozza, it enjoys a panoramic view of the mountains declared by Unesco World Heritage Site.
The Hotel Ai Tre Ponti is characterized by a sense of pure comfort. During the holiday guests can live, eat and sleep well and feel like at home. They will find a widespread peaceful atmosphere and a contagious sense of well-being brought by cheerful and unforgettable moments.
The Hotel Colfosco is located in a quiet and sunny position at the bottom of the Pala group, close to the city center and near the ski lifts. It is a strategic starting point for summer excursions and winter activities. It disposes of 45 rooms and 13 two-rooms apartments.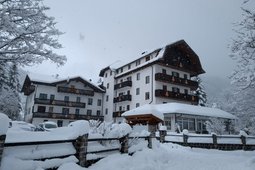 The Park Hotel Miramonti is one of the oldest hotels in San Martino di Castrozza, boasting a long-lasting and consolidated tradition. Despite its central position, the hotel offers a spacious parking and most of all a huge green park (6000sqm), its distinctive feature.