hotels and apartments
sport and leisure
localities
information
Apartments Casa Faoro

Faoro Rita
Transacqua (Primiero) - Loc. Ormanico - Via Sanguarna, 1/A


Telephone: (+39) 0439670... (+39) 043967095 / (+39) 3331120685
sistobet@gmail.com
Apartments - Offered treatments: SC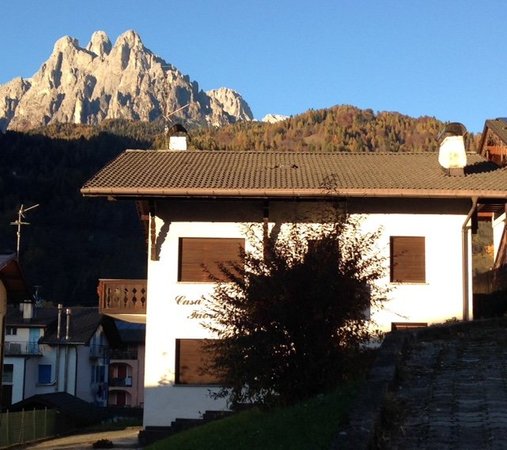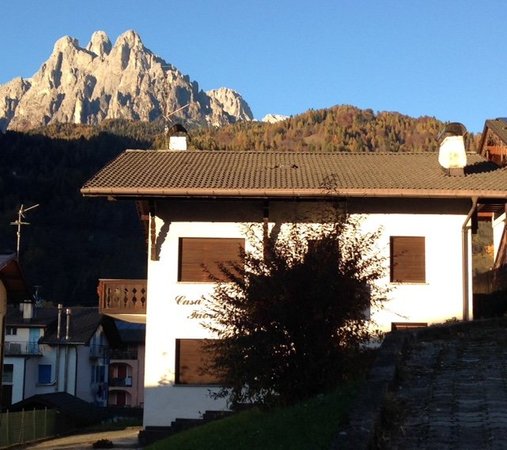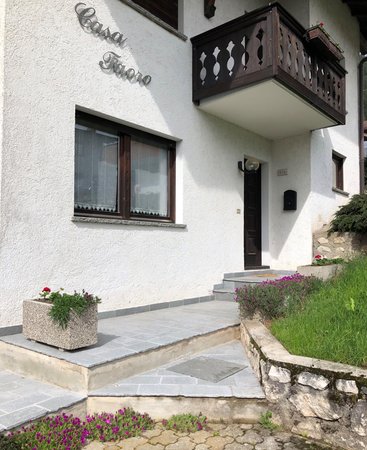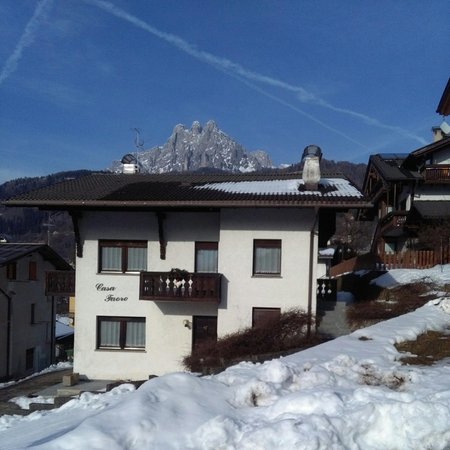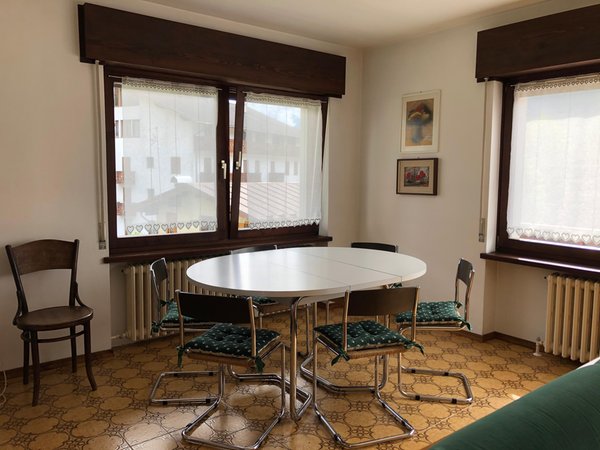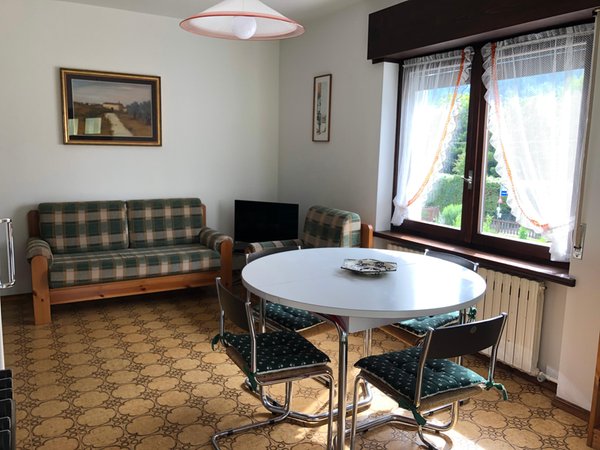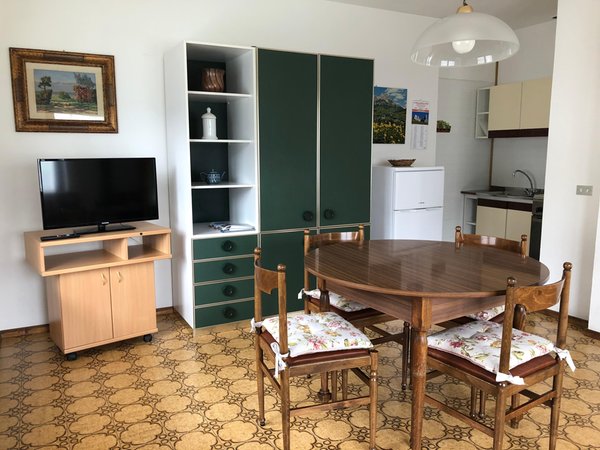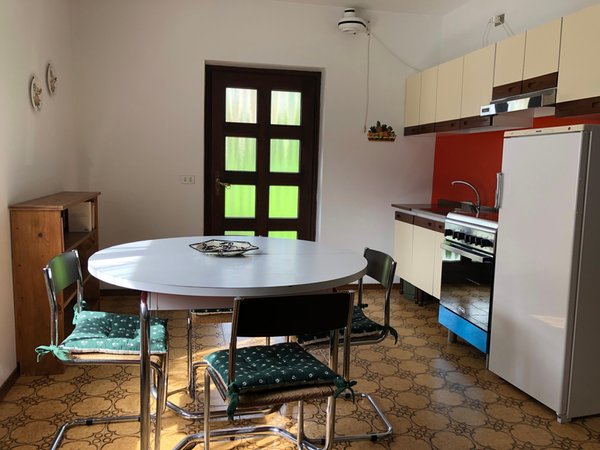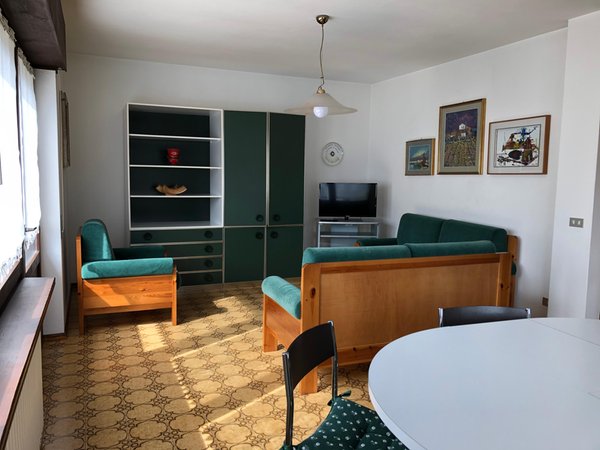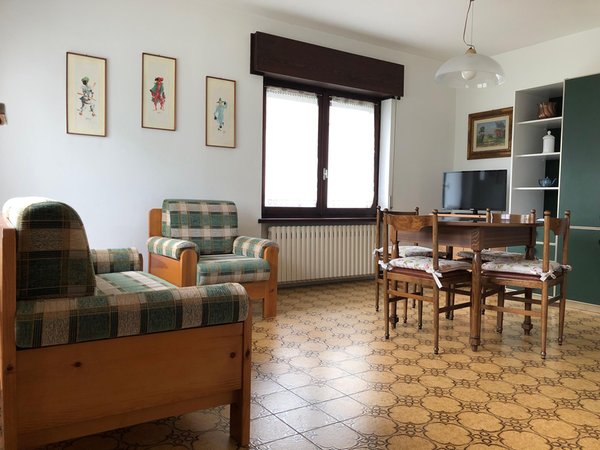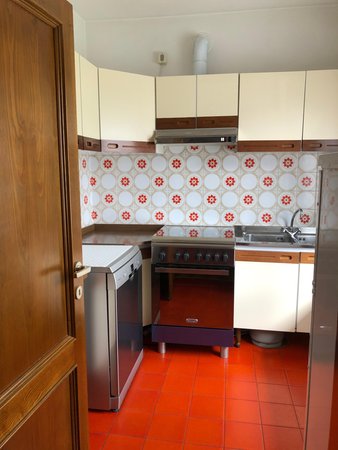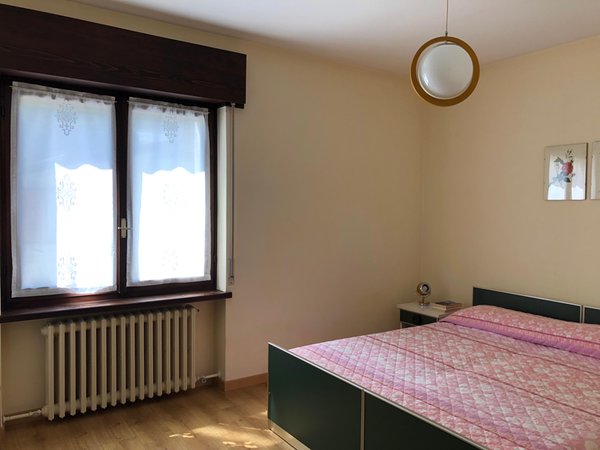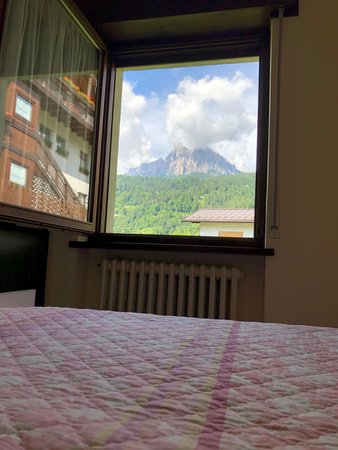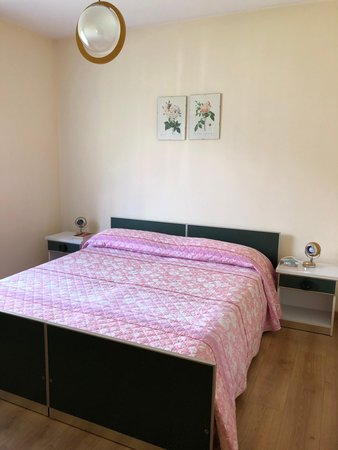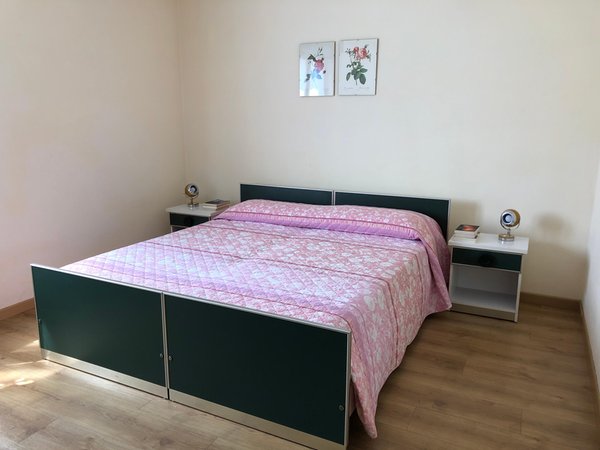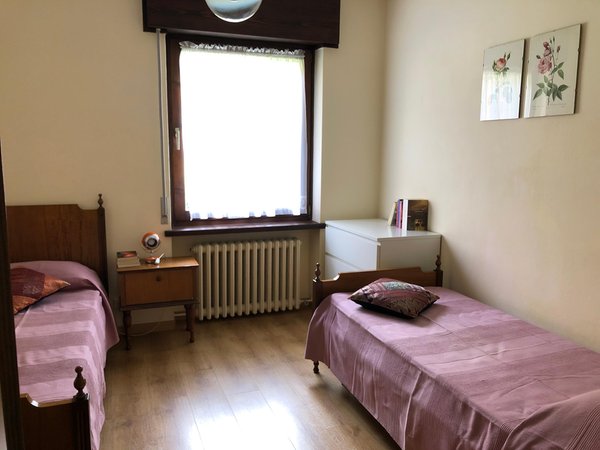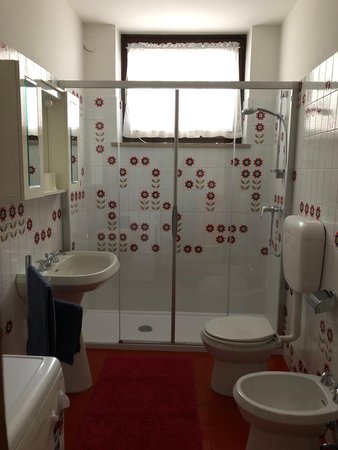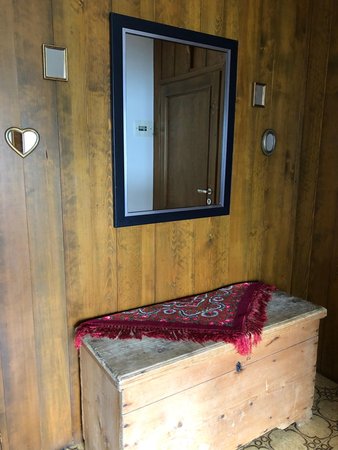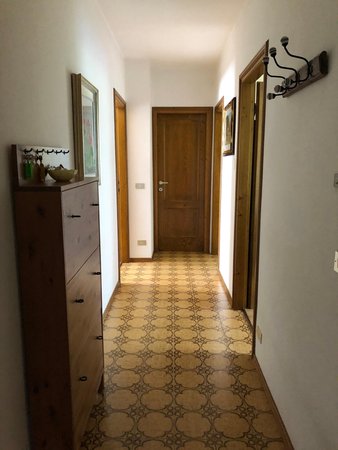 The holiday apartments Casa Faoro, with two, four or six beds, are the ideal starting point for your vacation in the beautiful Primiero Valley, which is famous for its stunning Dolomites, UNESCO World Heritage.
The apartments are located in the hamlet of Ormanico (Transacqua), strategically located just less then 10 minutes on foot from Fiera di Primiero, 20 metres from the bus stop. The apartments are suitable for guests seeking a relaxing or active holiday in the mountains, both with their partner or their whole family. After a long walk through the magnificent scenery of the Dolomites you can relax and enjoy the sun in the garden or on the balcony. Your four-legged friends are welcome too.

Licence / identification code: CIPAT App. 1 022245-AT-058137, App. 2 022245-AT-058138, App. 3 022245-AT-058139
| | |
| --- | --- |
| General information | at 746m a.s.l., 20m from the bus stop |
| Facilities | open parking space, garden at guests' disposal |
| In room/apt. | TV with satellite reception, dish washer |
| Further services for apartments | seasonal letting, shared washing machine |
| Children | family-friendly accommodation |
| Pets | small pets allowed |
| Ski | nearest slopes at 14km, closest cross-country trails at 4km, public skibus |
Availability and approximate prices
Check availability and see prices
1 x Apartment 1

https://images.yesalps.com/hp/514260/339011_zona-giorno.jpg

SP

{"S": 6, "M": 6, "B": 0, "N": false}

90 m2

[{"id": "SNG", "qta": 4}, {"id": "MTR", "qta": 1}]

[{"id": "camera", "index": 1, "letti": [{"id": "MTR", "qta": 1}], "kitchenette": false}, {"id": "camera", "index": 2, "letti": [{"id": "SNG", "qta": 2}], "kitchenette": false}, {"id": "camera", "index": 3, "letti": [{"id": "SNG", "qta": 2}], "kitchenette": false}]

kitchen, bathroom (with WC, shower)

First floor, three king-size bedrooms, living room, fully equipped kitchen with dishwasher, bathroom, washing machine and two balconies. Linens not included.

[0, 1, 2]

[{"id": 339011, "url": "https://images.yesalps.com/hp/514260/339011_zona-giorno.jpg", "width": 600, "height": 450}, {"id": 339022, "url": "https://images.yesalps.com/hp/514260/339022_zona-giorno.jpg", "width": 338, "height": 450}, {"id": 339012, "url": "https://images.yesalps.com/hp/514260/339012_zona-giorno.jpg", "width": 600, "height": 450}, {"id": 339021, "url": "https://images.yesalps.com/hp/514260/339021_cucina.jpg", "width": 338, "height": 450}, {"id": 339015, "url": "https://images.yesalps.com/hp/514260/339015_camera-faororita.jpg", "width": 600, "height": 450}, {"id": 339017, "url": "https://images.yesalps.com/hp/514260/339017_camera-faororita.jpg", "width": 600, "height": 450}, {"id": 339016, "url": "https://images.yesalps.com/hp/514260/339016_camera-faororita.jpg", "width": 600, "height": 450}, {"id": 339018, "url": "https://images.yesalps.com/hp/514260/339018_camera-faororita.jpg", "width": 338, "height": 450}, {"id": 339019, "url": "https://images.yesalps.com/hp/514260/339019_camera-faororita.jpg", "width": 600, "height": 450}, {"id": 339020, "url": "https://images.yesalps.com/hp/514260/339020_bagno.jpg", "width": 338, "height": 450}, {"id": 339023, "url": "https://images.yesalps.com/hp/514260/339023_dettagli-faororita.jpg", "width": 338, "height": 450}]

1 x Apartment 2

https://images.yesalps.com/hp/514260/339025_zona-giorno.jpg

SP

{"S": 4, "M": 4, "B": 0, "N": false}

50 m2

[{"id": "SNG", "qta": 4}]

[{"id": "camera", "index": 1, "letti": [{"id": "SNG", "qta": 2}], "kitchenette": false}, {"id": "camera", "index": 2, "letti": [{"id": "SNG", "qta": 2}], "kitchenette": false}]

living room (kitchenette), bathroom (with WC, shower, bidet)

Ground floor, two king-size bedrooms, living room with dishwasher, bathroom, washing machine and access to the garden. Linens not included.

[0, 1, 2]

[{"id": 339025, "url": "https://images.yesalps.com/hp/514260/339025_zona-giorno.jpg", "width": 600, "height": 450}, {"id": 339026, "url": "https://images.yesalps.com/hp/514260/339026_zona-giorno.jpg", "width": 600, "height": 450}, {"id": 339027, "url": "https://images.yesalps.com/hp/514260/339027_zona-giorno.jpg", "width": 600, "height": 450}, {"id": 339028, "url": "https://images.yesalps.com/hp/514260/339028_camera-faororita.jpg", "width": 338, "height": 450}, {"id": 339029, "url": "https://images.yesalps.com/hp/514260/339029_bagno.jpg", "width": 338, "height": 450}]

1 x Apartment 3

https://images.yesalps.com/hp/514260/339034_zona-giorno.jpg

SP

{"S": 2, "M": 2, "B": 0, "N": false}

40 m2

[{"id": "SNG", "qta": 2}]

[{"id": "camera", "letti": [{"id": "SNG", "qta": 2}], "kitchenette": false}]

living room (kitchenette), bathroom (with WC, shower, bidet)

Ground floor, king-size bedroom, living room with kitchenette, bathroom, washing machine and access to the garden. Linens not included.

[0, 1, 2]

[{"id": 339034, "url": "https://images.yesalps.com/hp/514260/339034_zona-giorno.jpg", "width": 600, "height": 450}, {"id": 339035, "url": "https://images.yesalps.com/hp/514260/339035_zona-giorno.jpg", "width": 600, "height": 450}, {"id": 339036, "url": "https://images.yesalps.com/hp/514260/339036_zona-giorno.jpg", "width": 600, "height": 450}, {"id": 339031, "url": "https://images.yesalps.com/hp/514260/339031_camera-faororita.jpg", "width": 600, "height": 450}, {"id": 339032, "url": "https://images.yesalps.com/hp/514260/339032_camera-faororita.jpg", "width": 600, "height": 450}, {"id": 339033, "url": "https://images.yesalps.com/hp/514260/339033_bagno.jpg", "width": 338, "height": 450}]
Availability and approximate prices
The availability and the prices are entered and updated by the accommodation they refer to. As these data are subject to continuous changes, the definitive availability and price must be agreed directly with each accommodation. The minimum and maximum prices can take into consideration only the most common services and conditions of the accommodation; in case of different solutions the prices may differ from the specified range. The indicated prices may not take into consideration several factors, therefore the final price and the details must be agreed directly with each lodging facility. The indicated prices may not include possible costs for final cleaning service or tourist taxes.
Other rooms

:

Available treatments

:

Description

:
Reviews
This business activity has no reviews yet.
Write the first positive review, share your experience!
Map
Apartments Casa Faoro
Loc. Ormanico - Via Sanguarna, 1/A
Transacqua (Primiero)
GPS coordinates
lat: 46.1775° N lon: 11.8372° E
lat: 46° 10' 39.1'' N lon: 11° 50' 14.0'' E
Information about the location: at 746m a.s.l., 20m from the bus stop, nearest slopes at 14km, closest cross-country trails at 4km.