hotels and apartments
sport and leisure
localities
information
10
Chalet La Casetta Nel Frutteto

Fam. Zugliani
Mezzano (Primiero) - Strada delle Strente


Telephone: (+39) 34953394... (+39) 3495339496
www.lacasettanelfrutteto.it - anto@primiero.net
Apartment - Offered treatments: SC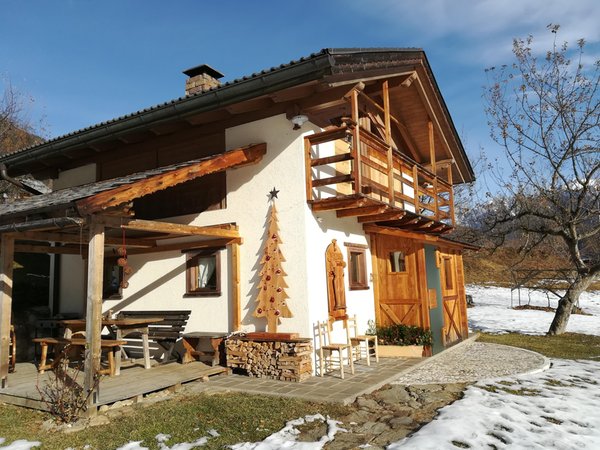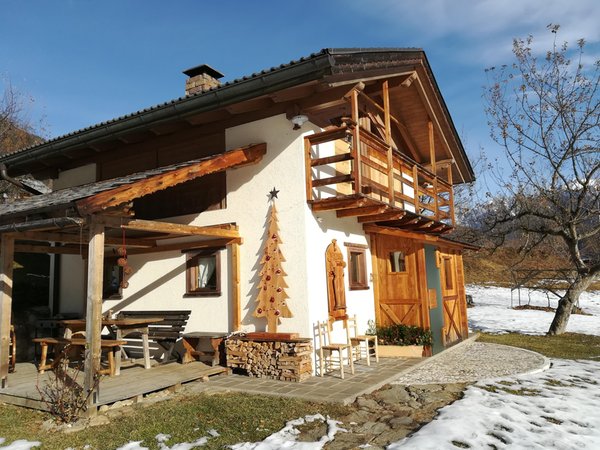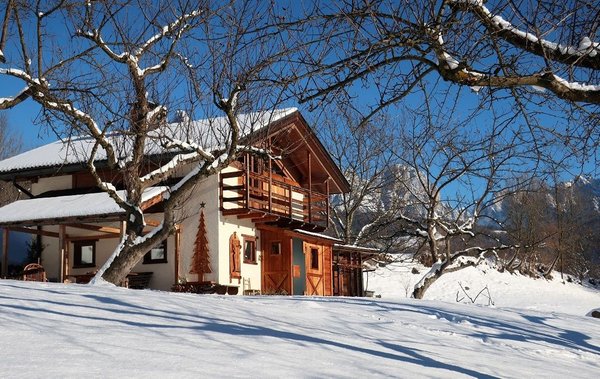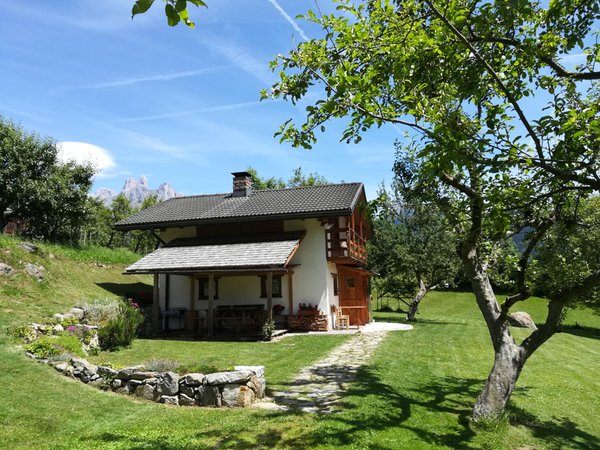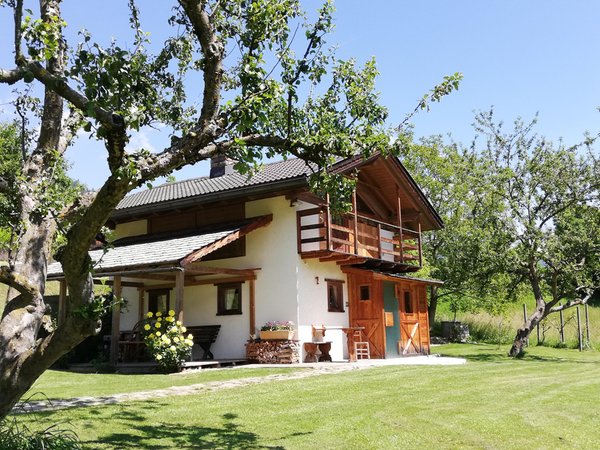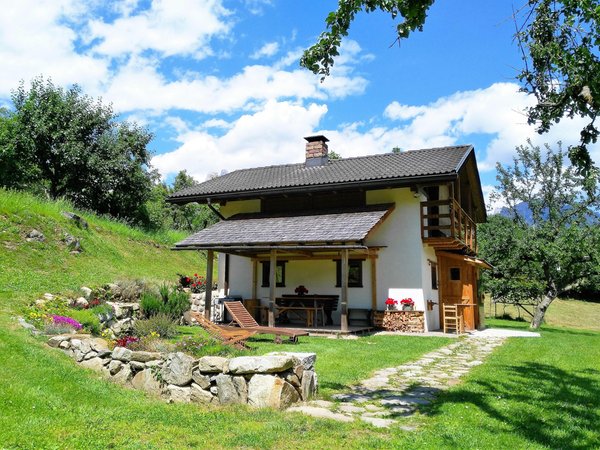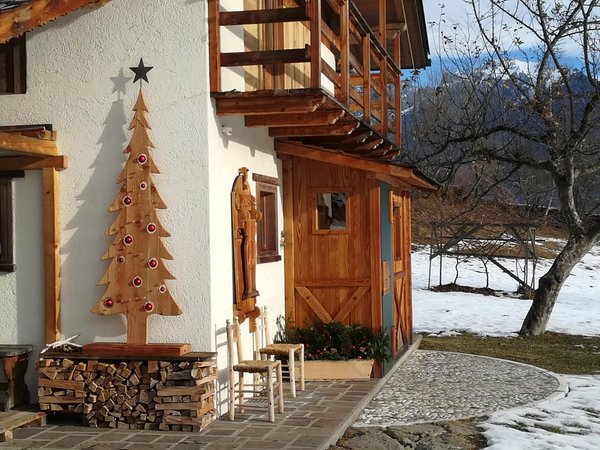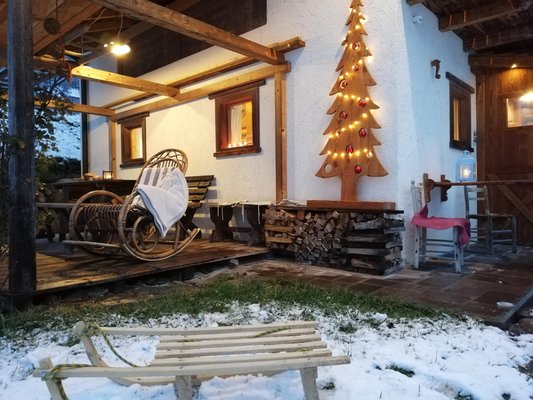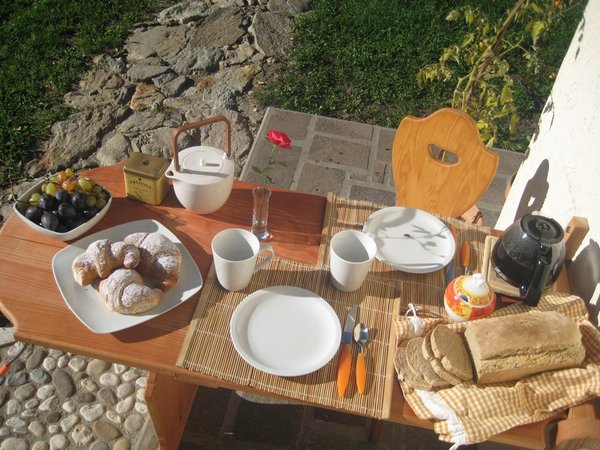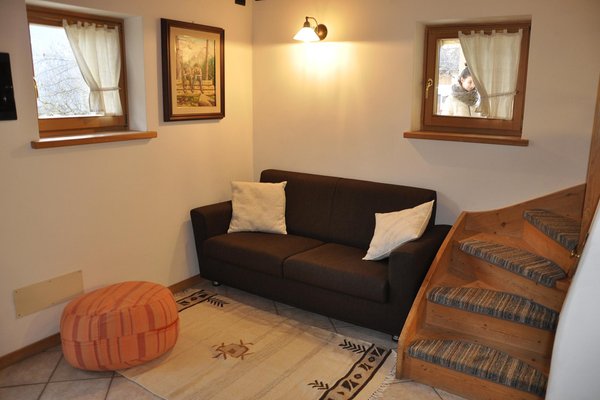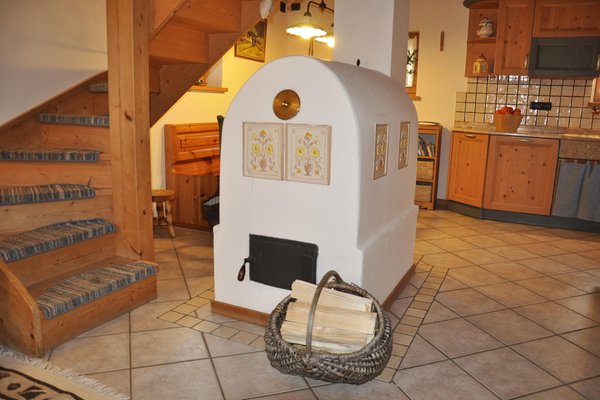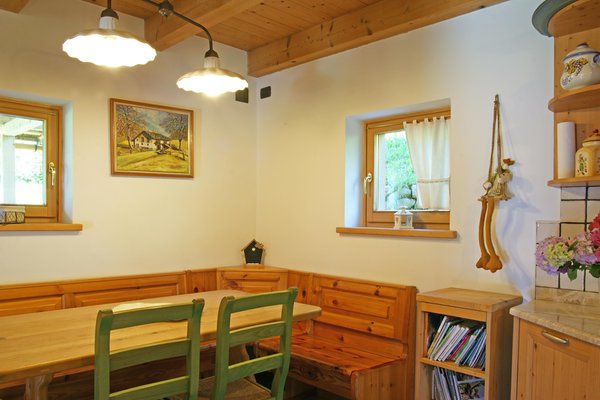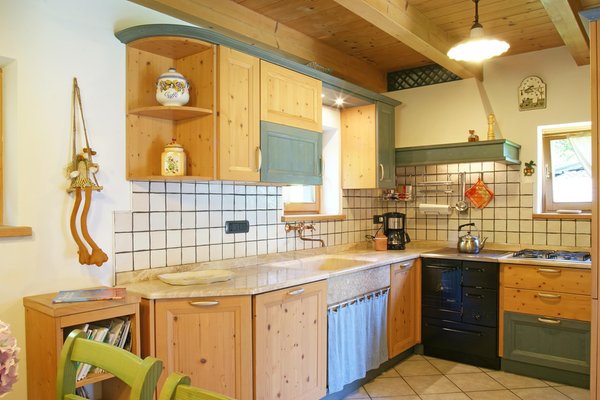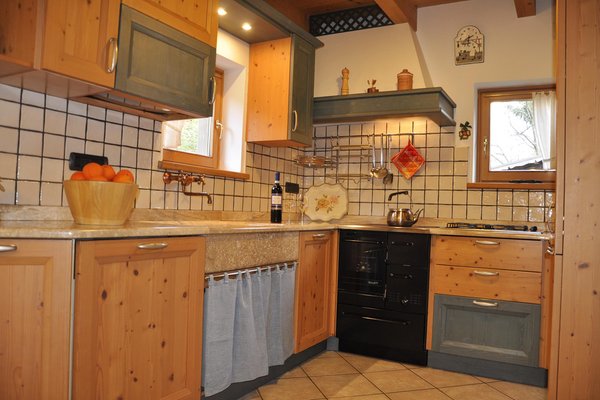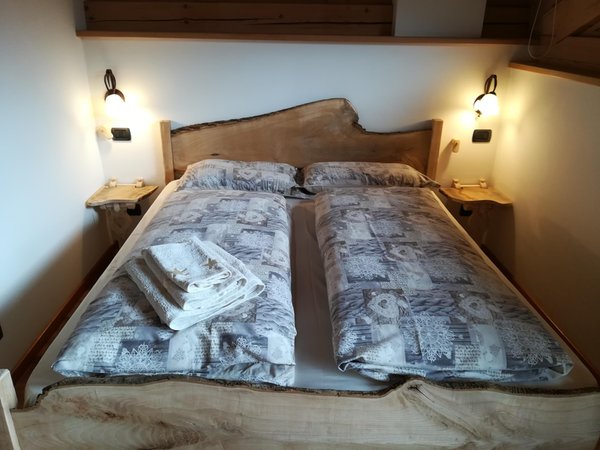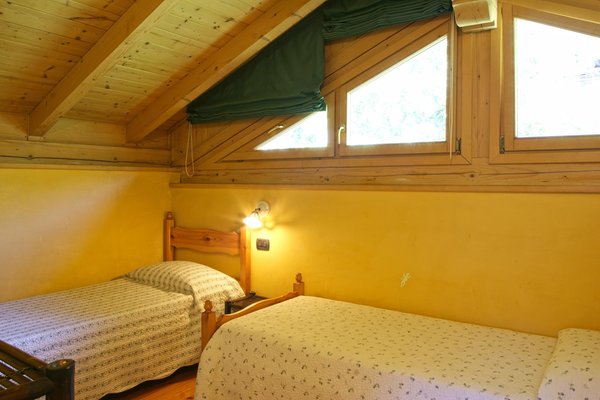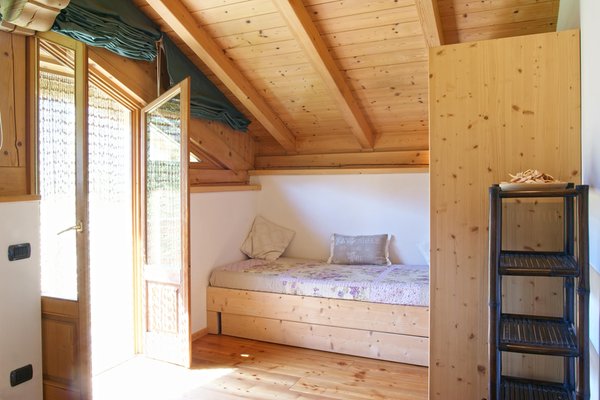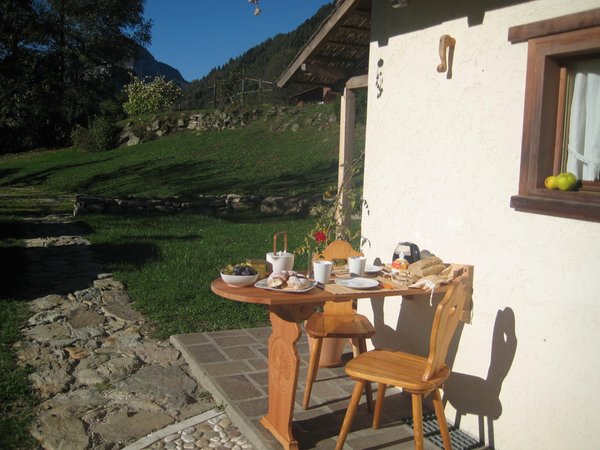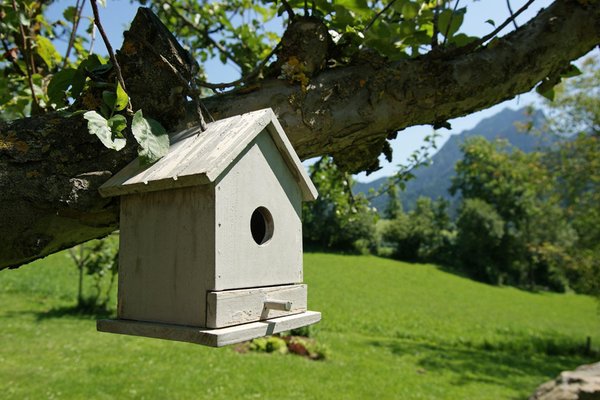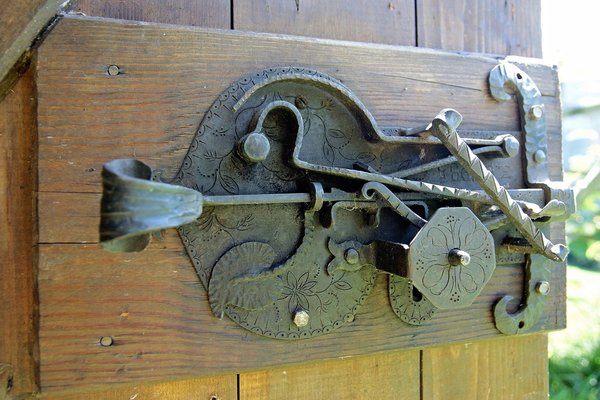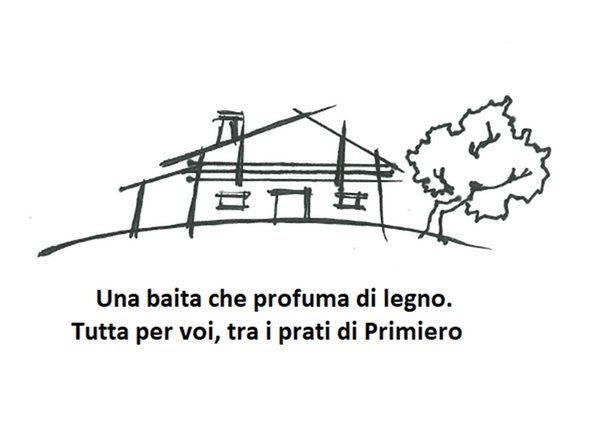 Characteristic Chalet in the fields of Molarèn, 1 km away from Fiera di Primiero and from Mezzano, which is one of the most beautiful villages in Italy!
The access road is paved and in winter it is regularly clean from the snow.
This small house is only for you, you do not have to share it with anyone! And around it 2000 mq field, where you can relax, enjoy the silence and the quite, run and play.
Near the chalet there are many forest paths and bike and pedestrian paths to reach the villages of the valley.
15 km away it is located the famous and elegant town San Martino di Castrozza, which is a heaven for skiing in winter and for trekking in summer.
On the ground floor there is a comfortable living room with kitchen, which is fitted with every comfort, dining corner, relax corner with satellite tv, bathroom with shower and washing machine. A big wood stove, which is the typical Tyrolese stove ("Stube"), completes the radiator heating and releases a really comfortable heat.
On the first floor, completely in wood, there is the double room (where it is possible to add the third bed) with terrace, a room with two beds that can be paired and a bathroom. Veranda where you can eat, barbecue and beach chairs. Bike shelter and a hose to clean the bicycles. Animals are welcome.
Moreover, for your safety, the apartment is sterilised with active oxygen after every guests's departure.

Licence / identification code: CIPAT App. Chalet La Casetta Nel Frutteto 022115-AT-070793
| | |
| --- | --- |
| General information | at 750m a.s.l., hut/chalet (holiday house in a typical mountain-style) |
| Facilities | open parking space, barbecue, garden at guests' disposal |
| In room/apt. | TV with satellite reception, hairdryer, dish washer, washing machine, drying rack |
| Further services for apartments | bed linen and towels, shared washing machine |
| Internet | Wi-Fi gratis in room/apartment |
| Children | family-friendly accommodation |
| Pets | small pets and big dogs allowed |
| Payment methods | no card payment accepted |
| Bike | bike friendly: locked bicycle storage, workshop corner for small repairs, equipped area for bike wash, info, maps and charts for bike excursions |
| Motorbike | toolbox at guests' disposal, equipped area for motorbike wash, info, maps and charts for motorbike excursions |
| Ski | nearest slopes at 15km, closest cross-country trails at 1km |
| Flexible Booking | it is possible to cancel a reservation without penalty: check the cancellation conditions of the accommodation facility |
Availability and approximate prices
Check availability and see prices
true

1 x Chalet (Apartment)

https://images.yesalps.com/hp/923571/321257_salotto.jpg

SP

{"S": 4, "M": 5, "B": 0, "N": false}

75 m2

[{"id": "SNG", "qta": 3}, {"id": "MTR", "qta": 1}]

[{"id": "camera", "index": 1, "letti": [{"id": "SNG", "qta": 2}], "kitchenette": false}, {"id": "camera", "index": 2, "letti": [{"id": "SNG", "qta": 1}, {"id": "MTR", "qta": 1}], "kitchenette": false}]

living area, 2 bathrooms (WC, shower - WC, bidet)

Spacious living room with kitchen fitted with every comfort (dishwasher included), dining corner, living area with tv and DVD player, bathroom with shower and washing machine.

[0, 1, 2]

[{"id": 321257, "url": "https://images.yesalps.com/hp/923571/321257_salotto.jpg", "width": 600, "height": 400}, {"id": 321256, "url": "https://images.yesalps.com/hp/923571/321256_zona-giorno.jpg", "width": 600, "height": 400}, {"id": 321260, "url": "https://images.yesalps.com/hp/923571/321260_zona-giorno.jpg", "width": 600, "height": 400}, {"id": 321258, "url": "https://images.yesalps.com/hp/923571/321258_cucina.jpg", "width": 600, "height": 400}, {"id": 321259, "url": "https://images.yesalps.com/hp/923571/321259_cucina.jpg", "width": 600, "height": 400}, {"id": 319743, "url": "https://images.yesalps.com/hp/923571/319743_camera-lacasettanelfrutteto.jpg", "width": 600, "height": 450}, {"id": 321261, "url": "https://images.yesalps.com/hp/923571/321261_camera-lacasettanelfrutteto.jpg", "width": 600, "height": 400}, {"id": 321262, "url": "https://images.yesalps.com/hp/923571/321262_camera-lacasettanelfrutteto.jpg", "width": 600, "height": 400}]
Availability and approximate prices
The availability and the prices are entered and updated by the accommodation they refer to. As these data are subject to continuous changes, the definitive availability and price must be agreed directly with each accommodation. The minimum and maximum prices can take into consideration only the most common services and conditions of the accommodation; in case of different solutions the prices may differ from the specified range. The indicated prices may not take into consideration several factors, therefore the final price and the details must be agreed directly with each lodging facility. The indicated prices may not include possible costs for final cleaning service or tourist taxes.
Other rooms

:

Available treatments

:

Description

:
Reviews
recommended by 1 guest
Map
Chalet La Casetta Nel Frutteto
Strada delle Strente
Mezzano (Primiero)
GPS coordinates
lat: 46.1628° N lon: 11.8144° E
lat: 46° 9' 46.3'' N lon: 11° 48' 51.9'' E
Information about the location: at 750m a.s.l., nearest slopes at 15km, closest cross-country trails at 1km.
related activities: Apartments Casa Zugliani , Apartment Nel Giardino del grande Tiglio