hotels and apartments
sport and leisure
localities
information
8
Apartment Mansarda Cà Dolomia
Valeria Ferrari
San Martino di Castrozza - Via Bettega, 4


Telephone: (+39) 32847358... (+39) 3284735883
v.ferrarimail@gmail.com
Apartment - Offered treatments: SC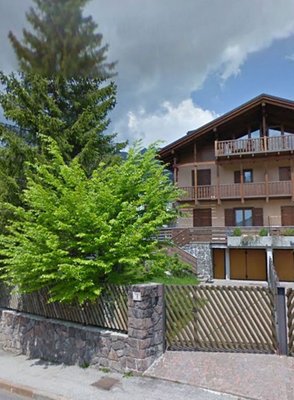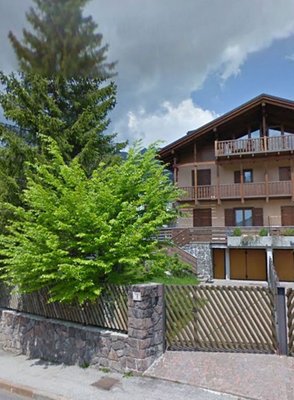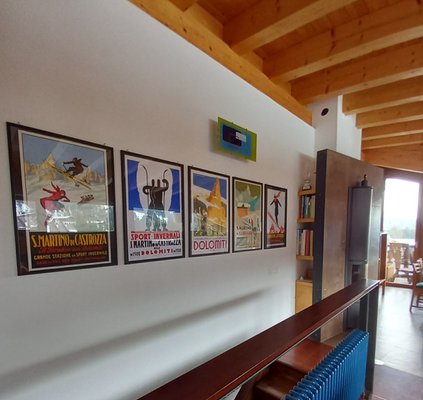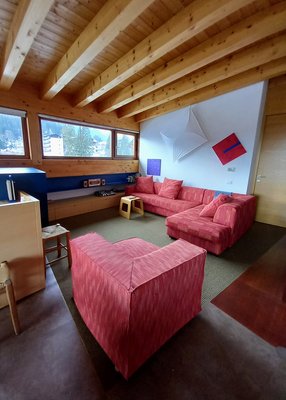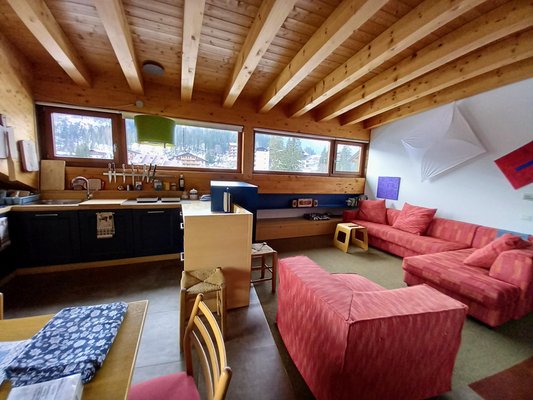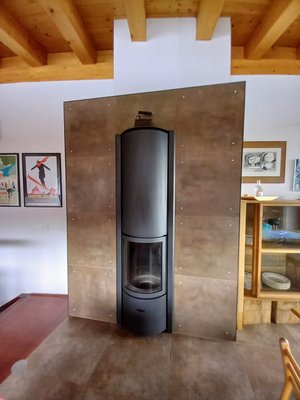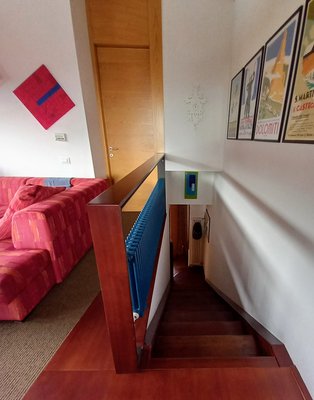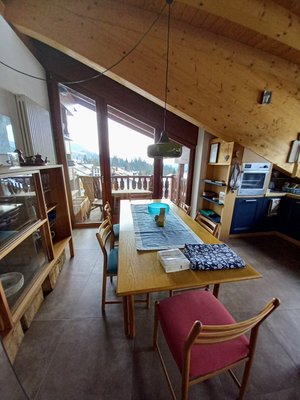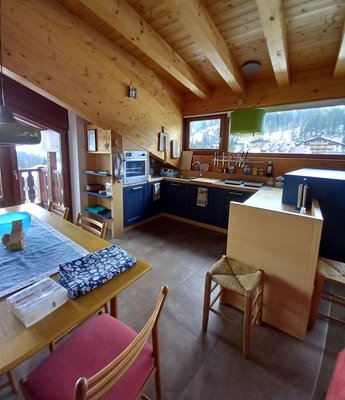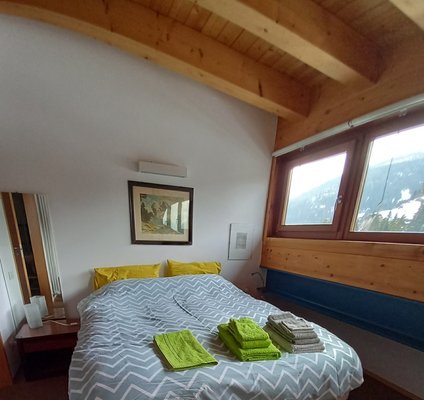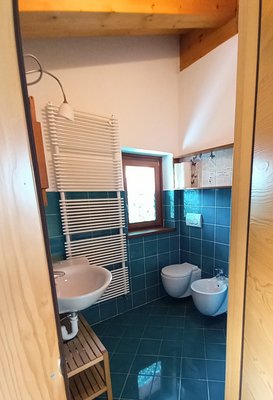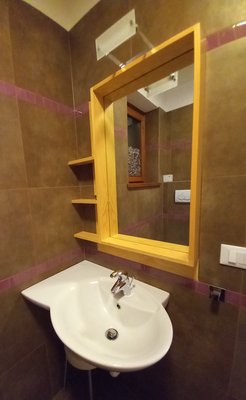 Bright renovated attic of about 75 square meters, with large windows with a splendid view of the Pale di San Martino and the Lagorai chain.
On the first and second floor, with access from an external staircase and gallery.
It consists of an entrance hall with a dressing room and a bathroom with shower on the first floor.
The internal staircase leads to the large living space with large open kitchen, dining area and large living room with double sofa bed, with modern fireplace / stove. Additional sofa bed.
The double bedroom has an open wardrobe and a private bathroom with a large shower.
The window of the dining area opens onto a small terrace where you can have lunch in the sun with a wonderful view of the Pale.
Shared garden with ground floor apartment with private outdoor parking.
Shared garage available on request, with boiler room where the shared washing machine is located.
The ski bus stop is 50 meters away.
The town center can be reached on foot in 10 minutes.
The closest ski lifts are approximately 850 meters away.
The closest cross-country ski track is about 950 meters away.

Licence / identification code: CIPAT 022245-AT-058459
| | |
| --- | --- |
| General information | at 1400m a.s.l., 50m from the bus stop |
| Facilities | open parking space |
| In room/apt. | smart TV, hairdryer, dish washer, washing machine, drying rack |
| Further services for apartments | bed linen and towels, shared washing machine |
| Children | children up to 5 years old not allowed |
| Pets | small pets and big dogs allowed |
| Payment methods | PayPal, no card payment accepted |
| Motorbike | motorcycle parking space in a garage |
| Ski | slopes are easily reachable on foot (850m), cross-country ski trails within walking distance (950m), public skibus |
Availability and approximate prices
Check availability and see prices
1 x Attic Cà Dolomia (Apartment)

https://images.yesalps.com/hp/1111650/811783_ingresso-dolomia.jpg

SP

{"S": 2, "M": 5, "B": 0, "N": false}

78 m2

[{"id": "MTR", "qta": 1}, {"id": "DVLM", "qta": 1}, {"id": "LGG", "qta": 1}]

[{"id": "camera", "letti": [{"id": "MTR", "qta": 1}], "kitchenette": false}, {"id": "soggiorno", "letti": [{"id": "DVLM", "qta": 1}, {"id": "LGG", "qta": 1}], "kitchenette": false}]

kitchen, 2 bathrooms (WC, shower, bidet - WC, shower, bidet)

Apartment with large panoramic windows, large living area with spacious kitchen and dining table for 6/8 people, living area with double sofa bed and sofa bed that becomes a single bed, comfortable double bedroom, 2 bathrooms each with shower, large terrace with outdoor table.

[0, 1, 2]

[{"id": 811783, "url": "https://images.yesalps.com/hp/1111650/811783_ingresso-dolomia.jpg", "width": 423, "height": 400}, {"id": 811786, "url": "https://images.yesalps.com/hp/1111650/811786_zona-giorno.jpg", "width": 286, "height": 400}, {"id": 811787, "url": "https://images.yesalps.com/hp/1111650/811787_zona-giorno.jpg", "width": 533, "height": 400}, {"id": 811788, "url": "https://images.yesalps.com/hp/1111650/811788_zona-giorno.jpg", "width": 300, "height": 400}, {"id": 811789, "url": "https://images.yesalps.com/hp/1111650/811789_zona-giorno.jpg", "width": 314, "height": 400}, {"id": 811784, "url": "https://images.yesalps.com/hp/1111650/811784_cucina.jpg", "width": 300, "height": 400}, {"id": 811785, "url": "https://images.yesalps.com/hp/1111650/811785_cucina.jpg", "width": 345, "height": 400}, {"id": 811790, "url": "https://images.yesalps.com/hp/1111650/811790_camera-dolomia.jpg", "width": 424, "height": 400}, {"id": 811791, "url": "https://images.yesalps.com/hp/1111650/811791_bagno.jpg", "width": 273, "height": 400}, {"id": 811792, "url": "https://images.yesalps.com/hp/1111650/811792_bagno.jpg", "width": 246, "height": 400}]
Availability and approximate prices
The availability and the prices are entered and updated by the accommodation they refer to. As these data are subject to continuous changes, the definitive availability and price must be agreed directly with each accommodation. The minimum and maximum prices can take into consideration only the most common services and conditions of the accommodation; in case of different solutions the prices may differ from the specified range. The indicated prices may not take into consideration several factors, therefore the final price and the details must be agreed directly with each lodging facility. The indicated prices may not include possible costs for final cleaning service or tourist taxes.
Other rooms

:

Available treatments

:

Description

:
Reviews
recommended by 1 guest
Map
Apartment Mansarda Cà Dolomia
Via Bettega, 4
San Martino di Castrozza
GPS coordinates
lat: 46.2592° N lon: 11.8044° E
lat: 46° 15' 33.1'' N lon: 11° 48' 15.9'' E
Information about the location: at 1400m a.s.l., 50m from the bus stop, slopes are easily reachable on foot (850m), cross-country ski trails within walking distance (950m).